Viewing Parish Records on CD-ROM or Online?
Finding the Records on CD-ROM
With more and more people interested in researching their family history using their computer, there is demand for old records to be made available for viewing on CDs. Most of the old Parish Records are on either microfiche and microfilm, or in a book. Specialist companies like S&N Genealogy Supplies have made Parish Records available on CD by scanning in each microfiche, microfilm, and book and making them available to purchase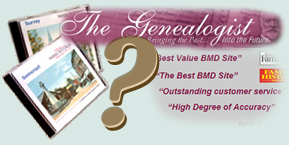 through secure websites.
Viewing the Records Online
Transcribing parish records is a huge task, and many companies are now beginning the transcribing and indexing of Parish Records, and then including them onto their websites for people to view. One company, S&N Genealogy Supplies, have already started working on transcribing Parish Records, and these are available at TheGenealogist. There are over 7 million records available to search, and this number is continuing to grow.
Viewing Parish Records online is easy. Websites like TheGenealogist have these records available for you to view from as little as £5. They are searchable by surname, forename, date, and the church/parish (to see an example search, click here). With the aid of both volunteers and overseas transcribers, more records are continuing to be added.